About Us
At Shockcraft we know what riding is all about - beating your mates.
Whether you're a hard-core XC racer, #Enduro rider, weekend warrior, long distance tourer or downhill stomper we can help. With the right suspension you'll be faster, smoother and able to put down more power, giving you the edge over all your riding buddies.
Shockcraft is all about taking technical excellence and making it easy; packaging it in a way that's easy to understand and even easier to purchase, with results that completely reset expectations on what suspension can and should do.
We take the best engineered suspension and upgrades from the corners of the world and combine them with our own in-house engineered modifications and tuning into a package that will give you the best performance and ride quality you've ever experienced.
If your suspension just needs serviced, we do that with the most care and best understanding of anyone. Combined with the best fluids, settings and seals for the application, this gives you the best performance from stock suspension.
If you prefer to service and tune your suspension yourself we can provide the best fluids, seals and advice.
If you need a fully race-prepared fork or shock with maximum performance and reliability, we can do that too.
Once you have the suspension working perfectly we have our own, unique tuning schemes which provide a simple step-through for spring rate (air pressure) and damper settings
Who We Are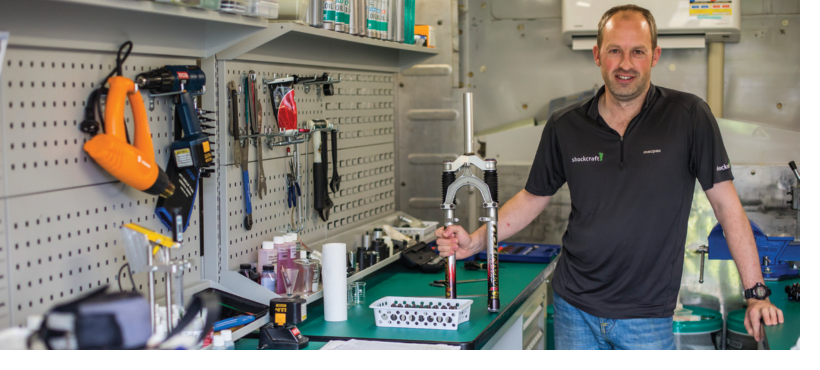 Shockcraft is run by a mechanical engineer (Dougal, at left) and environmental scientist (Ellen). In 2006 we started Shockcraft in Dunedin before moving, via the West Coast, to our present location outside Alexandra in Central Otago. The Central Otago mountains and schist are an excellent test of suspension and the harsh climate results in stunning scenery and world class riding terrain.
Our Products & Services
Our products are based around suspension and suspension service parts for all major brands and models. In addition to the brands we represent in New Zealand (Manitou, Motorex & RWC/Enduro) and the brands we stock and supply (including IGUS & SKF), we have our own Shockcraft branded custom engineered products and Monocrome branded bottom brackets, headsets, suspension bearings, bearing products, wheel bearings and bushings.
Our services include fork, shock and dropper post service for all major brands. Our engineering services include full design and a small machine shop for prototyping complete with a CNC mill. These enable us to repair, replicate and manufacture from scratch to effect repairs and modifications well beyond even exceptional service centres. Our clean-room workshops are climate controlled and feature a huge range of tools and fixtures made in-house to aid service and prevent damage to sensitive suspension parts.
Our Customers

We supply both retail and trade customers, throughout New Zealand and internationally. Retail customers may purchase as a guest or create an account here. Dealers may create an account or login here to access dealer pricing.