Air Sleeve Kits & SKF Fork Seal Kits
3 August 2015 3:27:53 pm NZST
New Product: Shockcraft Faux* Flo Air Sleeve Kits
You demanded, we produced.
Due to an interesting combination of demand and supply, Shockcraft has produced its own replacement Air Sleeve kit. This is a no-nonsense essentials only kit that replaces all the wearing seals in your rear shock. This fits Fox air shocks from 2000 onwards.

*Note: Faux is pronounced "Foh". Like Homer Simpson turning our favourite expletive into his favourite expletive.

Kit Contents:
3 air-can o-rings to fit all three sizes/generations
2 air seals to prevent air loss positive to negative and negative to atmosphere
1 travel check o-ring
1 pillow pack of air piston lube

These are available both for trade sale and with Shockcraft Service.
Dealer Price: $13 plus GST

New Product #2: SKF Fork Seal Kits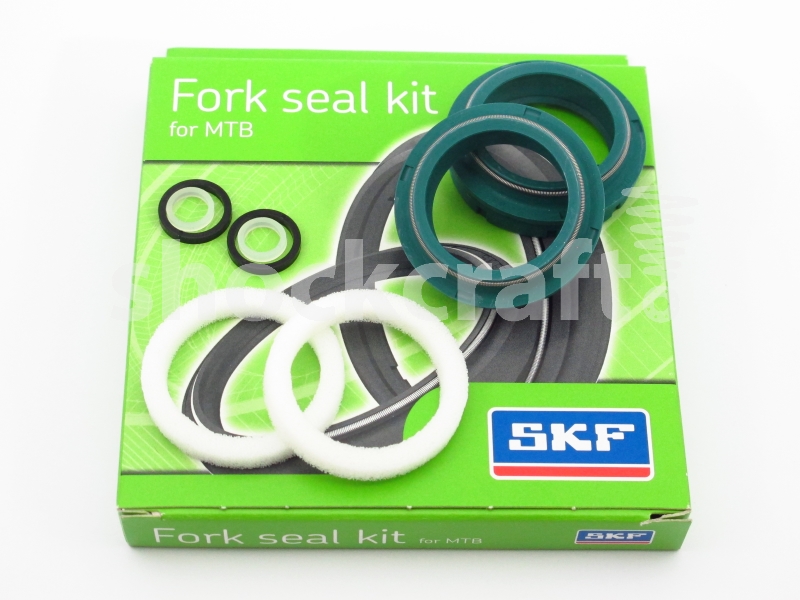 SKF is one of the best known and most respected bearing and seal manufacturers (Clarkson voice on) In The World (Clarkson voice off). So we're stoked they're producing their own branded fork seals to fit common forks.
Excellent sealing and minimum drag. Cool dark green colour too.

Shockcraft has these in stock to fit Fox 32 mm, Fox 36 mm and Fox 40 mm. Other sizes available on demand.

The SKF Fox 32 mm kit will also fit 32 mm forks from Rockshox, Manitou, X-fusion and others.

These are available both for trade sale and with Shockcraft Service.