Pike/Lyrik RC Tune, Bike of the Month & Competition Winner
27 January 2017 12:04:42 pm NZDT
It's a 1995 Manitou EFC (by Answer)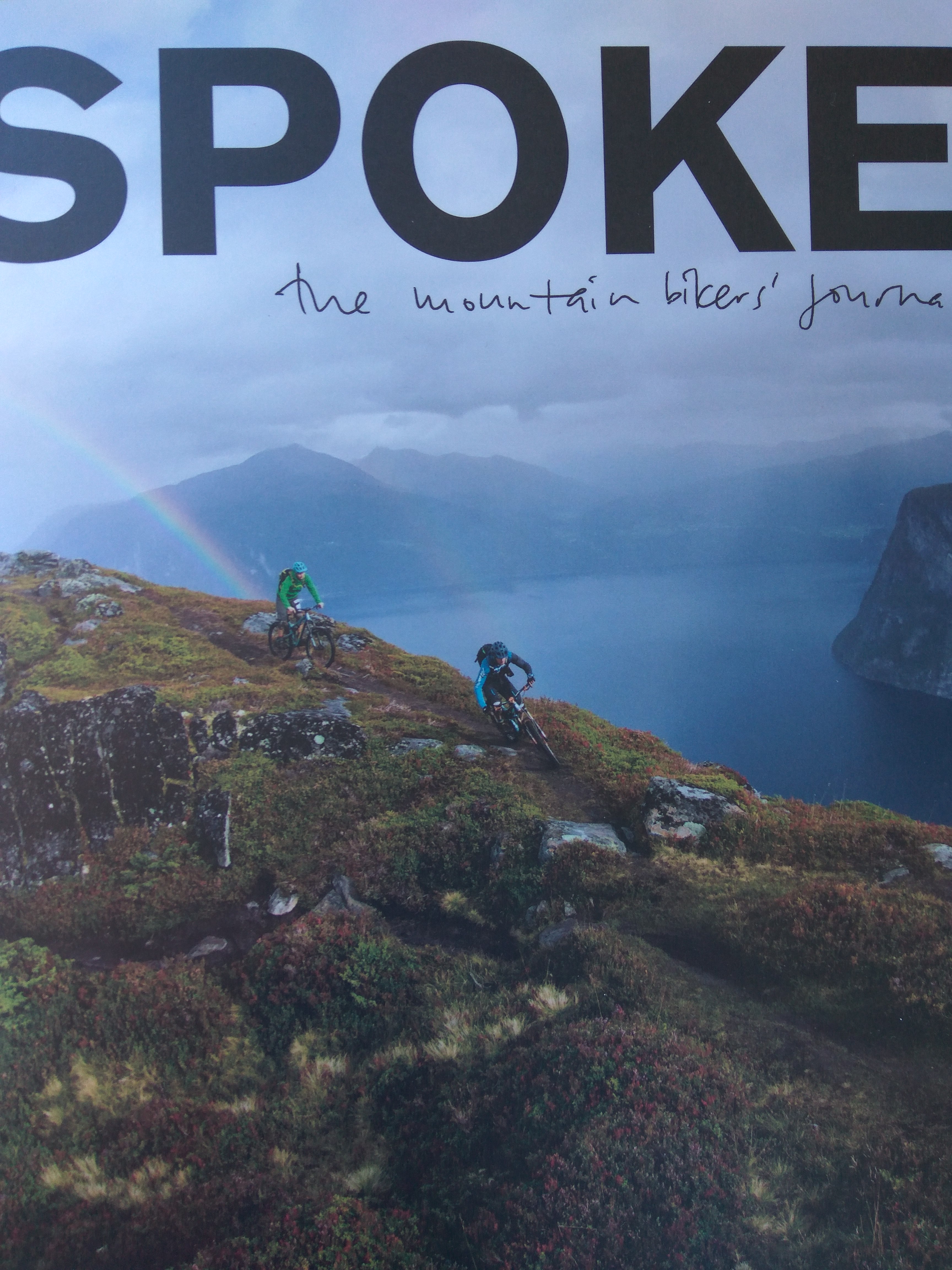 We had many entries to our Fork ID Competition which were almost correct but only two that got the model year right! So we flipped a coin. Congratulations to Duncan W for winning by correctly identifying the brand, model and year of the fork Dougal was holding in Spoke. Many entries hoped it was a 1996 EFC. But it wasn't. The 1996 EFC had slightly different graphics (bands instead of flames, silver instead of black "Manitou") and a larger diameter oil damper inside. See a 1996 EFC here and compare the graphics to the 1995 here.

Duncan has won a Shockcraft fork service up to the value of $250. Thank you to all those who entered.
Unharsh My Ride - Pike & Lyrik RC Tuning
Shockcraft damper modifications are now available for RockShox Pike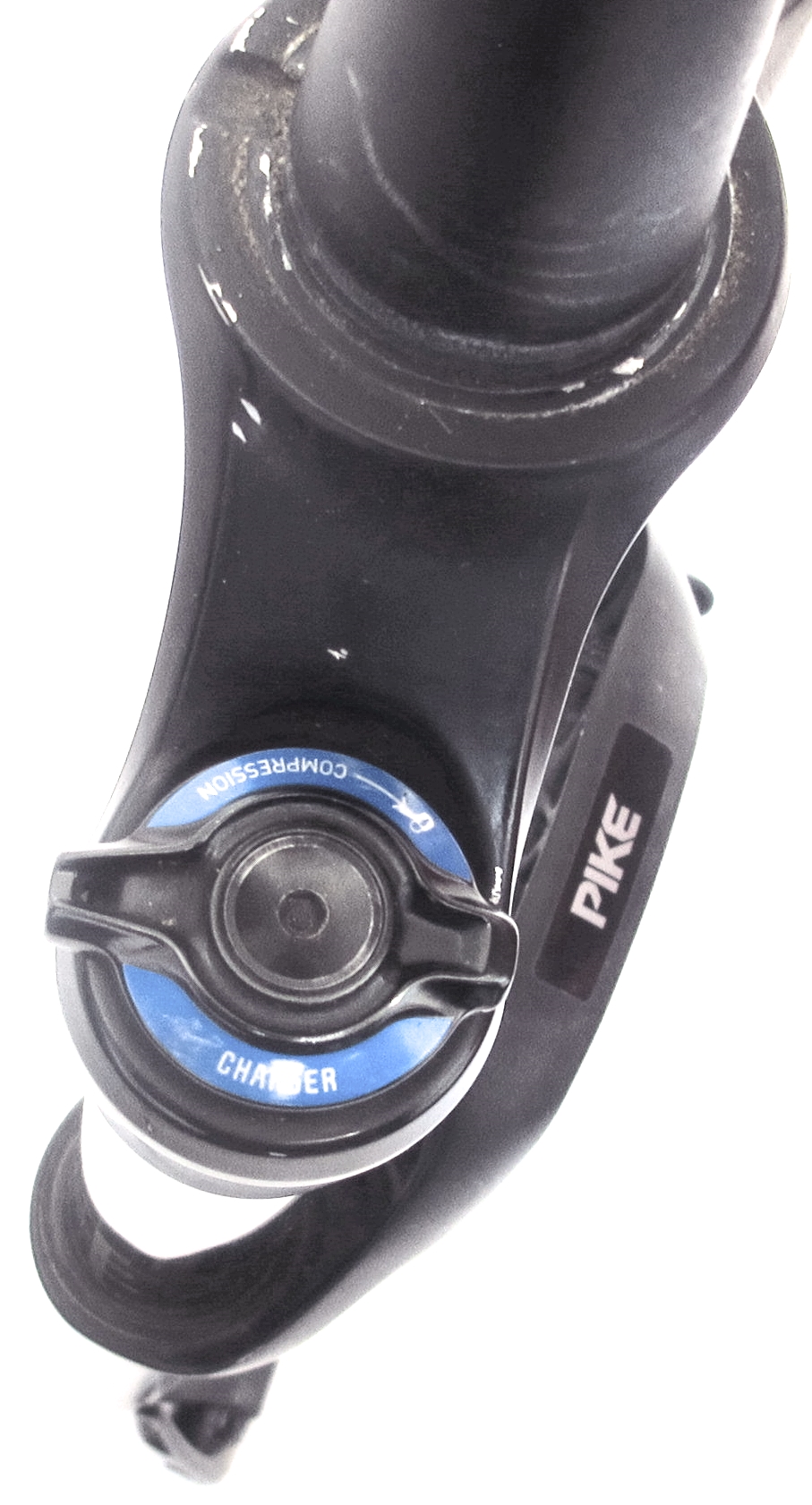 & Lyrik RC forks with charger damper.
We machine the damper for better internal oil flow and re-valve to suit the rider.

Advantages for riders < 90 kg:
• Huge improvement in ride quality
• Fix harshness & spiking on sharp impacts
• Lockout dial becomes a lSC dial.
• Less diving, less wallowing and full travel.
• Fork can compress faster and further for each bump
• Allows use of correct air pressure for better support.

Advantages for heavier & harder riders (90-100 kg):
• Reduce damper air intrusion
• Reduce spiking on faster impacts
• Improve damper reliability & service intervals
• More tunes to come.

For sumo-class riders we can re-valve specifically for riding weight and style.

These modifications are available as part of a fork or damper only service.

Full Details & Pricing: available here.

Bike of the Month - January 2017
For the first 2017 Bike of the Month we present the 20 year old retro-mod 1997/2017 Specialized FSR Elite.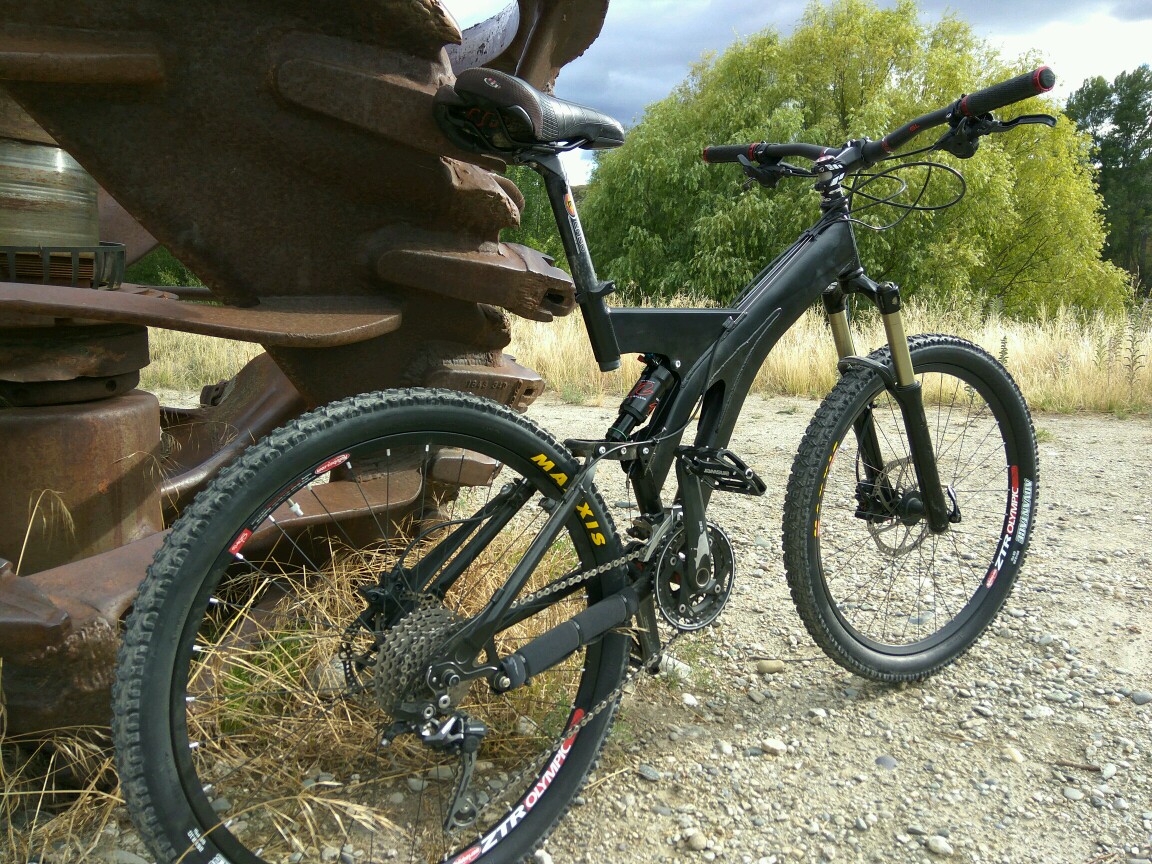 Like every slow burning project, this one began with a vision. Four years ago, while recycling some white-ware, I spotted the front of a bike frame poking out of a scrap metal bin. It looked a lot like an extruded aluminium MAXX framed FSR. I pulled and out came a (badly repainted) 1997 FSR Elite which was missing half it's pivot hardware. Clearly the result of a renovation gone horribly wrong. These frames were an engineering masterpiece. One triple cored aluminium extrusion spans from the head-tube to the bottom bracket and upper suspension mount. It is split and rolled about 300 mm back from the headtube. They were light, strong and very expensive.
For $3 it was mine. Ellen was less than enthusiastic to be told I had found her next bike. But it was going to be awesome.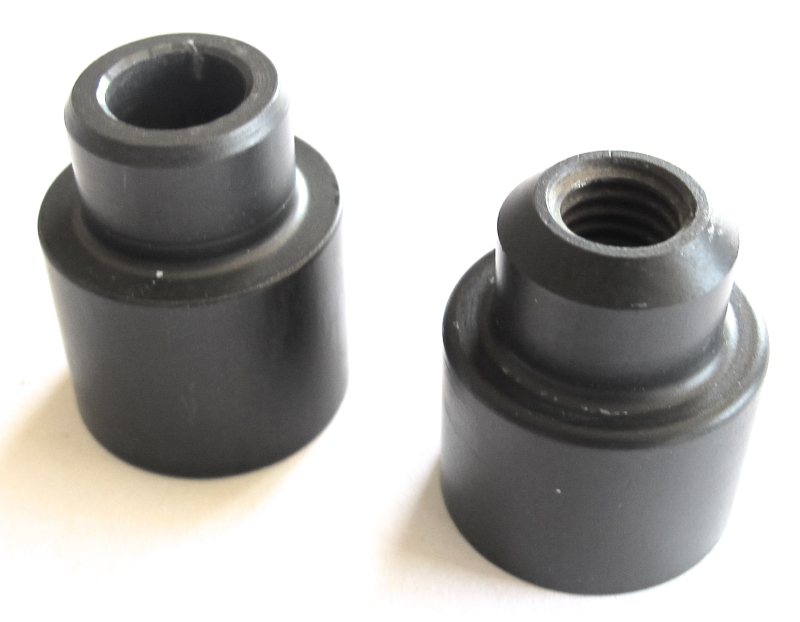 New hardware
(at right) was made in the Shockcraft machine shop and hard anodised to the same finish and colour as the originals. The frame was mocked up with parts to check the fit and sizing. Then it was all on.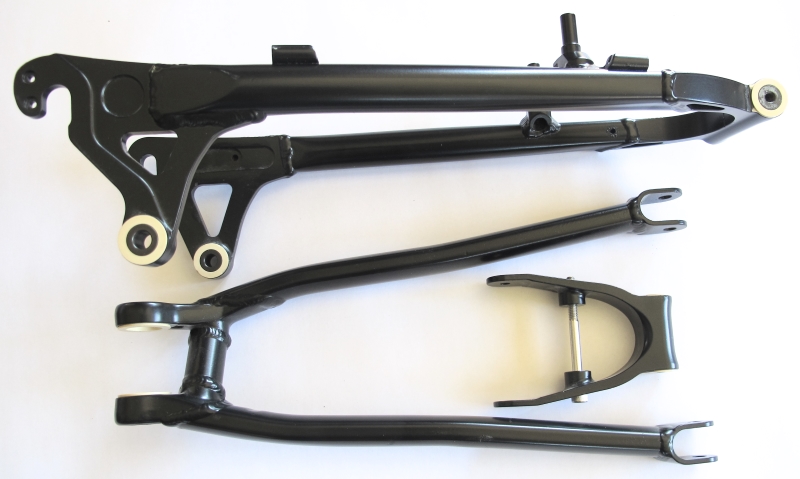 The original red paint was beyond saving, the patchy blue did not need to be seen again. The frame was stripped and powder-coated in simple satin black. All pivots were repaired with new IGUS bushings throughout, which were reamed to a fit that feels like needle roller bearings. Same story with the
Shockcraft Straight Axle shock hardware
holding the brand new
Manitou McLeod
in (slightly longer than stock) 165 x 38 mm.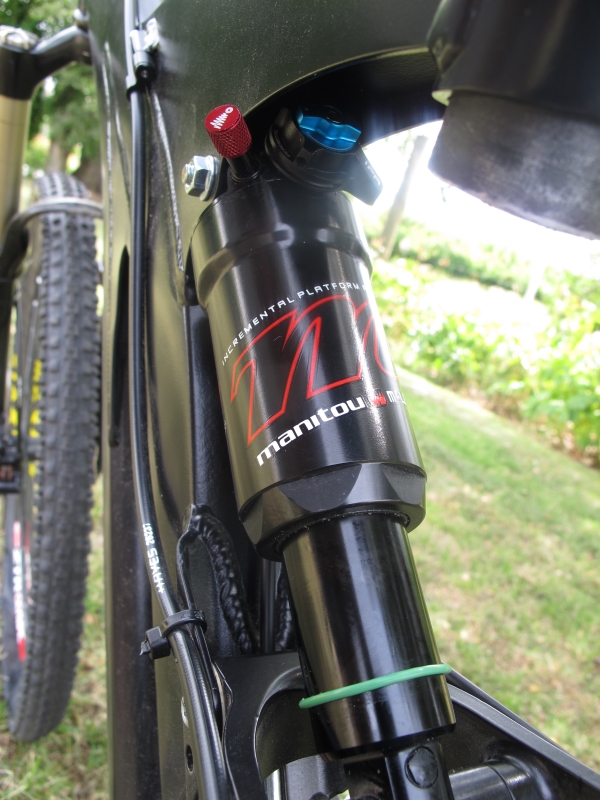 The fork is also a classic - a 2003 Manitou Black with coil spring (lightest spring Manitou made) and TPC damping (re-valved to suit). The hubs are Specialized's own brand from 2000 but from there it got more retro-mod than vintage:
• DT Revo spokes with Stans ZTR rims and Maxxis Advantage rubber (2.1 & 2.3) - keeping it light but capable.
• Answer stem, carbon 720 mm bars, logo grips and Rove pedals.
• Brakes are the brand new Hayes Radar with 160 and 203 mm rotors. Big rotor because we have mountains here.
• Bottom Bracket and Headset are our own Monocrome.
Other parts are still to come, mostly cosmetics:
• The drive-train was a last minute second hand score (Thanks Scotty & Celia).
• The seat post will be an Answer Carbon once the right seat is found.
• Stickers are yet to be decided on.
• The fork needs a new compression knob and some paint touch up.
The bike was prepped on Christmas Eve and built (then ridden) by Ellen on Christmas Day. Threads were chased (thanks to Alan Henderson for the last minute BB thread tool), holes were drilled into the frame (disc brake adaptor), bolts were turned, shock hardware made, parts robbed off other bikes and everything, eventually, did exactly what it should.

So how does it ride? Beautifully!
The suspension (about 130 mm each end) is smooth, supple and perfectly balanced front/rear.
The Horst Link rear suspension is perfectly behaved and has no bad habits. It moves easily and sucks up bumps even while pedalling or braking.
The riding position is pretty close to modern bikes too.
Manitou Machete Review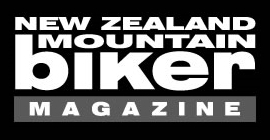 NZMTBR tell us they have a great write-up on the Machete - Manitou's 32mm lightweight, cost-conscious performance 27+/29 or 29+ Boost fork. The magazine is on sale end of the month.
More on the Machete
here
.
Pricing:
$499 plus GST