Axles & Spacers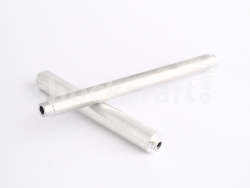 Axles & Adapters
At Shockcraft we can make parts fit together like they should, even if they were never supposed to.
Our engineered solutions for axles include fitting 12 mm through axle wheels into a QR frame with the option of heavy-duty or light-weight components. If your 20 mm front hub has a spacer that drops out we can solve that with either spacer modifications or a new bearing/sleeve design.
Any other axle problems, we can probably help. Contact us for further information and pricing.
Spacers - custom sized pieces of metal or plastics to fill the gap
Applications range from bottom brackets, hubs, suspension pivots and shock hardware to fork and shock travel modification. Tell us what you need, inside diameter, outside dimeter and length. We'll tell you what we can do.
Heavy duty adapter to convert rear wheel 12 mm through axle to 10 mm bolt-up axle

Learn More

Light weight axle adapter to convert rear wheel 12 mm through axle to 10 mm quick release axle

Learn More

Light weight axle adapter to convert front wheel 15 mm quick release to 9 mm quick release

Learn More