Bike of the Month & Shock Service Before & After
15 April 2016 4:14:06 pm NZST
Shock Service - Before & After
In February Melanie F won a Shockcraft Suspension Service. She sent us her rather sad looking Fox RP23 shock and received it back with a full overhaul; completely stripped and cleaned, new oil, new air-seals and brand new shock hardware.

Before Service: After Service:
This was typical condition for a shock that's seen a lot of light to moderate riding. The shock showed no signs of oil leaking but the oil was well past changing. With only 20cc inside it does get a workout. What
was originally clear red oil came out a muddy brown colour.
The air seals in the shock were dry and no longer sliding and sealing as they should. This is why there were brown deposits on the shock body. We installed a new set of
genuine Fox air seals
.
The shock hardware on top was the older style using a pair of aluminium "top hat" reducers and a DU (Dry Unlubricated) bushing to pivot around. Over time the DU wears and if it wears too far it becomes very abrasive and eats into the aluminium reducers.
Melanie's shock was well past simply replacing the DU bushing, so she got the full Shockcraft
Straight Axle Sealed hardware
treatment:
IGUS self lubricating polymer bushing
, hard and smooth stainless steel pin and sealing collars to keep it all clean. Once set up like this shock hardware is often good for the life of the bike.
The top knobs on Melanie's shock were also packed with dirt. Sometimes this is simply grease migrating out of the unsealed shaft head and retaining grease, sometimes this is oil leaking through the shock shaft and out the top. On Melanie's shock the oil volumes checked out so the dirt was simply from years of migrating grease.
Now Melanie's shock will be working as well as it was when new, but with one exception: the reduced friction from the IGUS bushing and stainless pin in the top shock will give it better small bump response than it ever had before.
Click here
to book your own shock or forks in for service.
Manitou Range Direct from Shockcraft
The full Manitou range of forks and shocks is now available direct from Shockcraft.


Forks
• Dorado - 36 mm inverted DC fork, 180-200 mm, 26/27/29 inch, 20 mm axle.
• Magnum - 34 mm 27+ & 29+ Mattoc, 100-120 mm travel, 110x15 mm axle (Boost)
• Mattoc - 34 mm SC trail/Enduro fork, 140-170 mm travel, 26/27 inch convertible
• Machete (New)- 34 mm 27+ & 29+ trail fork. 120-140 mm travel, 110x15 mm axle (Boost)
• Minute - 32 mm SC trail fork, 100-140 mm travel, straight/tapered, 26/27/29 inch
• Marvel - 32 mm SC XC fork, 80-120 mm travel, straight/tapered, 26/27/29 inch
• R7 - 30 mm SC XC fork, 80-100 mm travel, straight steerer, v-brake option, 26 inch
• M30 - 30 mm SC fork, 100 mm travel, straight/taper steerer, 26/27/29 inch
• Circus - 32 mm Jump/Street fork, 80-130 mm travel, straight/tapered, 26/27 inch
• Custom build - 32 mm, straight/taper steerer, QR/15/20 mm axle, 26/27/29" wheels, up to 140 mm travel, any spring system
Click here if you would like further information and pricing on Manitou forks. We will help you work out which forks best fit your bike and riding style.

Rear Shocks

The McLeod is Manitou's XC, trail and Enduro shock; air spring, shim stack damper with 4 stage on the fly compression adjustment and external remote available.
152 x 38 mm (6 x 1.25 inch)
165 x 38 mm (6.5 x 1.5 inch)
190 x 50 mm (7.5 x 2 inch)
200 x 50 mm (7.785 x 2 inch)
200 x 57 mm (7.785 x 2.25 inch)
216 x 63 mm (8.5 x 2.5 inch)
Slickoleum Assembly Grease
Slickoleum is the suspension assembly grease we use here at Shockcraft. It is also used by Manitou, Fox, Specialized and many other suspension manufacturers. It is also known as Slick Honey. Use this at home for lubricating fork and shock seals, bushings, o-rings and adjuster knobs.

Available in 1 oz or 10 oz tubs


Bike of the Month - April 2016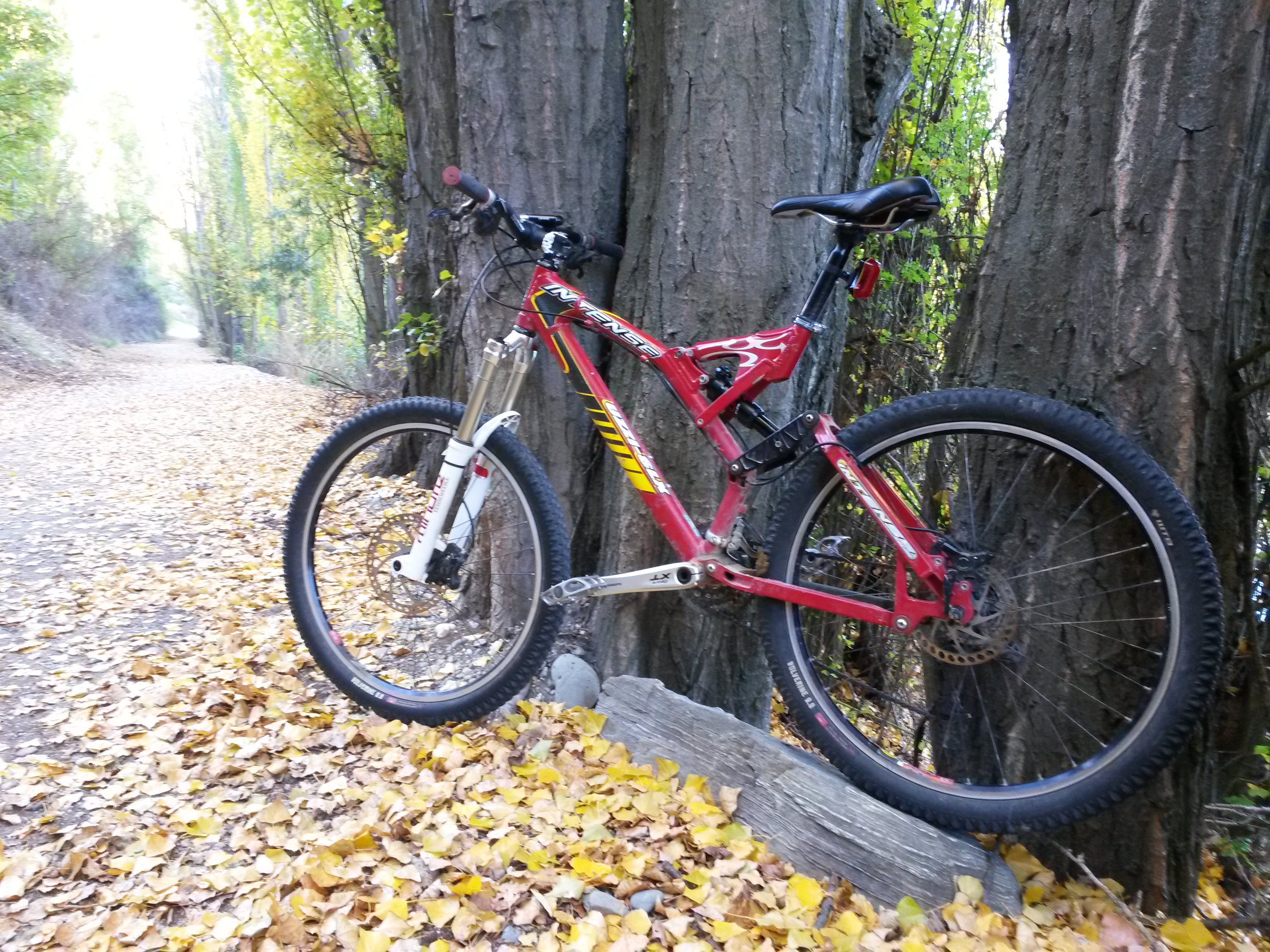 This Intense Uzzi SLX belongs to Ellen at Shockcraft. It has been a long time favourite, entering its 10th year, and still continues to evolve. Being stable, confidence inspiring and bullet proof, it has been (and continues to be) the perfect bike for negotiating the steep twists and turns of Central Otago trails. The current parts mix is a Manitou Minute (140 mm, 20 mm axle, ABS+ damping and MARS spring) fork which balances perfectly with the Manitou McLeod (190 x 50 mm) shock on the rear. Shockcraft's own Monocrome brand provides the headset, bottom bracket,headset bearings, bottom bracket bearings and wheel bearings. Suspension bearings are Enduro and the shock is fitted with Shockcraft Straight Axle hardware (with a ludicrously long 68 mm shock pin).

This photo was taken last week on the Millenium Track which joins Alexandra to Clyde along the banks of the Clutha River. Autumn is a beautiful time to ride.

Post Daylight Savings Bike Maintenance
Winter-Resistant Bottom Brackets
It's getting wetter and colder so you'll need one of our Monocrome bottom brackets with CNC Storm Drains & Stainless Steel bearings. The storm drains let any water escape and the stainless steel of the bearings ensures that they will last longer even if water does get to them.
All Monocrome BB30/PF30 and external bottom brackets purchased with CNC Storm Drains and Stainless Steel bearings come with a 12 month no questions asked bearings warranty.
Fork Service Kits
After summer is the perfect time to give your forks the love and attention they need to keep them running over winter. To make it easier, Shockcraft has service kits available for Manitou, Foxand RockShox forks. These kits include all the essentials for fork maintenance, including fork seal kits, oils, Slickoleum assembly grease and oil syringes.


Check the kits out here.

Nominate Your Bike for Bike of the Month

We love to see what people ride their trails with, so send us a photo of your favourite bike (with Shockcraft products installed) and tell us about the build and where you ride. We'll show off the best bikes in our Bike of the Month newsletter and online.