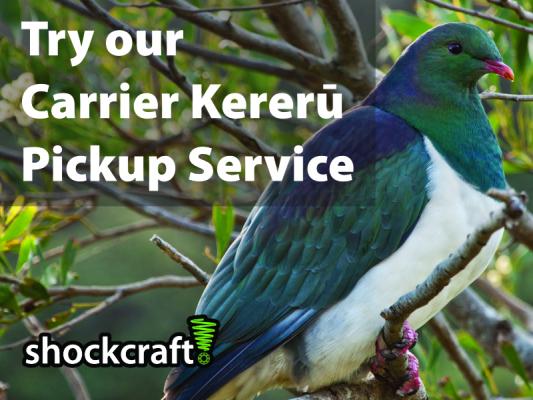 We're Open
29 April 2020 10:25:28 am NZST
During New Zealand's COVID-19 Alert Level 3 we are shipping orders & servicing suspension & dropper posts. Delivery is via contactless courier delivery.

We will be taking all appropriate public health measures to minimise the risk. This and reduced courier services will cause delays.

If you need to contact us, please do so by email. We are answering the phones but may not always be able to pick up. If you email us we will get back to you as soon as we can.
Service Workshop is Now Open
Dougal has cleared the service queue of forks, shocks & droppers from before the lockdown and our service workshop is open for new service.
You can get your suspension/dropper post in the queue by booking here. Parts will be serviced in the order they're received with priority given to those with earlier booking dates.
Book Kereru Pickup
To have your parts collected please use our Carrier Kereru (Pigeon) Pickup service. We will book a courier to come and pick up your parts from your home address. This service also works for local (Alexandra or Clyde) customers. We will call you to arrange contactless pickup from a location that suits. Alternatively locals can drop off to a drop-box at our 58 Boundary Road, Alexandra address, Monday to Friday 9 am to 5 pm. Please call prior so we know you are coming.
Click & Collect
Under Alert Level 3 our premises are shut to the public but we have enabled click & collect on our website. Local customers (Alexandra or Clyde) can select local drop off and we will deliver. There is a small charge for this at checkout.
Shipping Costs & Delays
International Customers
Due to reduced flights, there has been a significant drop in capacity and an increase in international freight charges for parcels to Europe & the UK. We have had to pass on this cost to customers. Expect all international delivery to be slower than usual due to COVID-19.

New Zealand Customers
Due to most orders going to home addresses, largely outside business zones, the charge for NZ courier deliveries has been increased by NZ$1 per order. This means delivery of an A5 parcel within NZ is now NZ$8.50.

Changes to how we and our couriers handle your order mean that there are likely to be delays.

We will continue to keep you updated on our Shockcraft blog. Please sign up to our newsletter here if you would like to receive updates.

Look after yourselves & your family. Keep safe.

Regards,
Dougal and Ellen
Owners & Operators of Shockcraft