Bike of the Month & Motatapu/Karapoti Post-race Bike Checks
16 March 2016 3:08:14 pm NZDT
Service for Easter
| | |
| --- | --- |
| Mag 21 | Fox Micro Brain shocks |
| Specialized Futureshock Brain forks | RS Brain forks |
| Specialized AFR Brain rear shocks | Stratos rear shocks |
| Specialized AFR non-brain shocks | 5th Element rear shocks |
| Fox Brain shocks | Pace RC36 Forks |
Otago Anniversary Day & Easter

Shockcraft is closed for Otago Anniversary Day on Monday 21st March and for Easter from Friday 25th to Monday 28th. We'd love to be open but our couriers don't operate on these days.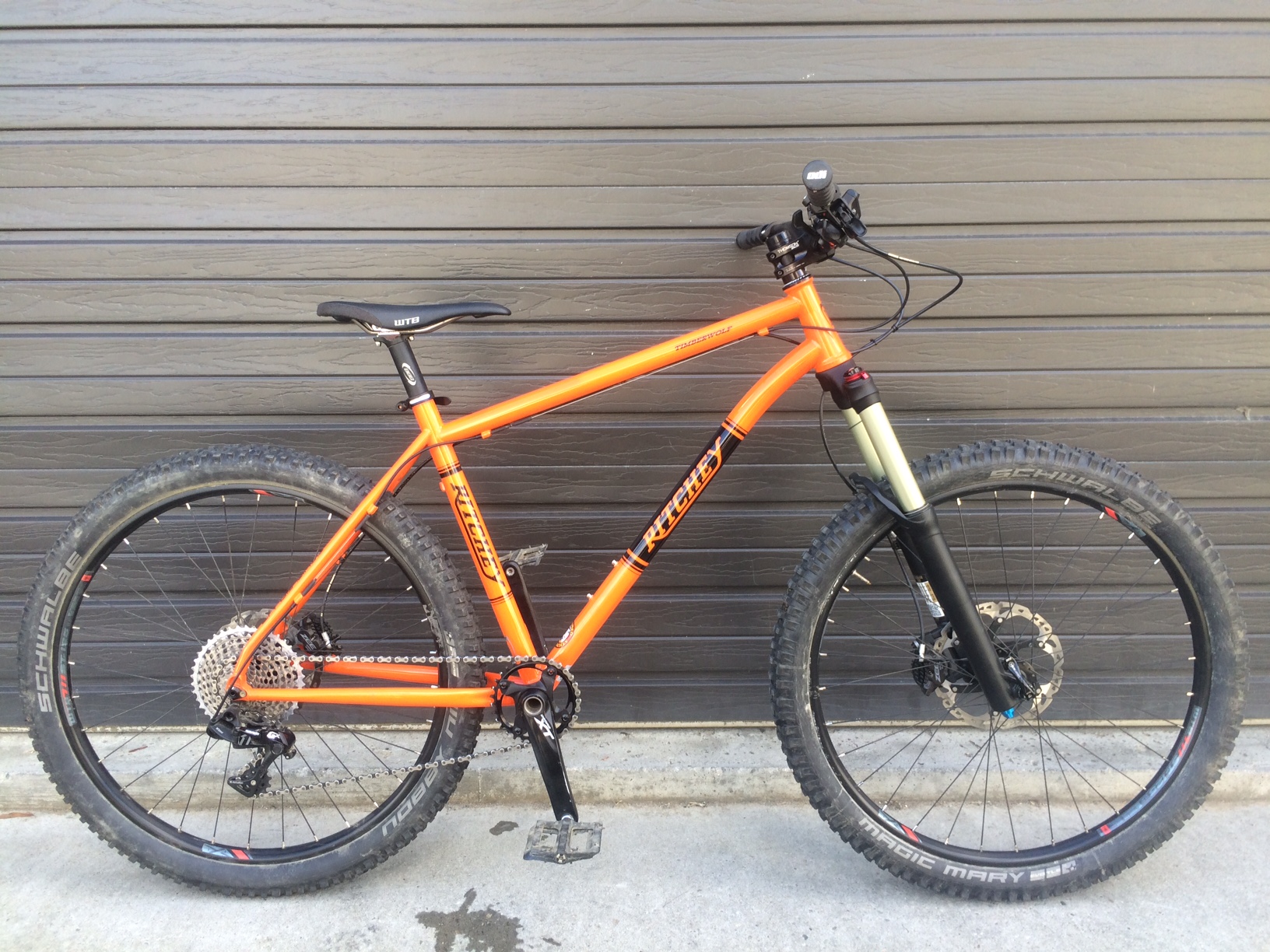 Bike of the Month - March 2016
Here we have a Ritchey Timberwolf trail bike belonging to Matt at
Arrow Bikes
in Arrowtown.
Resplendent in burnt orange this steel framed beast has a
Manitou Mattoc fork
from Shockcraft set to 27" wheels and 140 mm travel.
Motatapu & Karapoti Post-race Bike Checks
If you've recently competed in legendary events like the Karapoti and Motatapu then your bike has also taken a beating. Races like these involve water and lots of it so you will want to check a few things over on your bike, particularly your forks, bottom bracket, headset and hub bearings. Here is what you can do to minimise problems.
Check - use your fingers
Remove cranks and wheels from the frame and see how well the bearings turn by hand. For cranks check the non-drive bearing carefully; water often enters along the crank splines on this side. Check the plastic top-hats aren't turning nicely inside a seized bearing.

Mitigation - dry it out
If you know your bike has been in water, all bearing containing components should be stripped and left to dry. External bottom bracket cups are the worst for water retention but if these are removed and left sitting with the bearing upright they will drain. Fork axles should be removed from front hubs; rear hubs are usually pretty well sealed but worth checking if you have any doubts. Use a hair drier or low heat gun to dry out any sitting water.

If you suspect forks have water ingress, drain the oil and take a look. Water will show as heavy bubbles which don't mix on the bottom of the oil container or if well mixed a milky-white emulsion. Forks need dried completely if any moisture is present, then reassemble with new fluids, new seals and check the stanchions carefully for any damage which can let water in, oil out or damage the seals. If you need help with fork service contact us.
Grease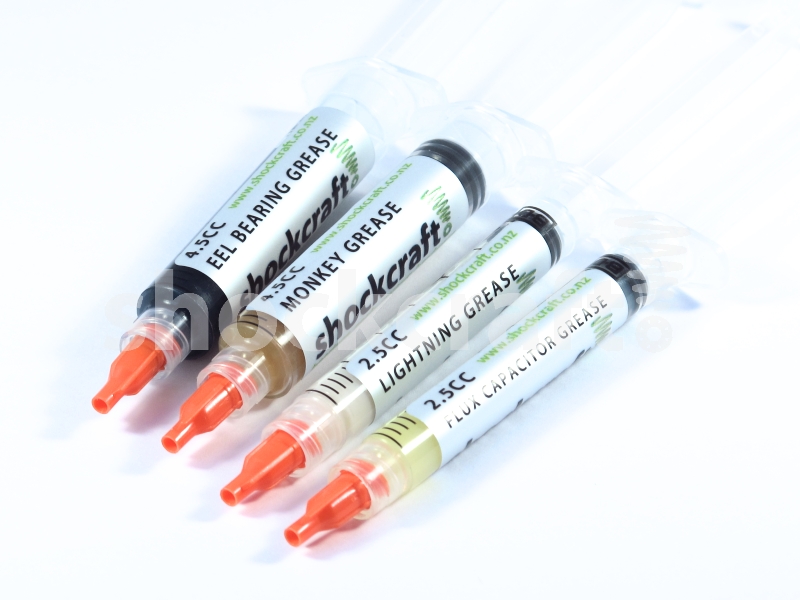 A light layer of grease smeared on bearing cases can prevent corrosion, but excess grease can clog drain holes and create new problems; consider stainless steel bearings if moisture continues to be a problem. Once a bearing is running rough new grease isn't enough to fix it as you'll never get all the rust particles out and they'll make a grinding paste. It's better to add extra grease to new bearings.

To add extra grease to a hub or bottom bracket cartridge bearing you need to flick the seals out on one side only, add grease until it's level with the seal and reinstall the seal. Do this to one side only or you'll have too much grease. 50% fill is the maximum for continuous rotation.

For a headset or bottom bracket bearing you can do both sides. Get as much grease in as possible.

Grease Options:
Flux Capacitor Grease - ultra low viscosity for the fastest rolling bearings.
Lightning Grease - sensible low viscosity for low rolling resistance with higher grease fills.
Monkey Grease - a good all round bearing grease.
Eel Bearing Grease - The thickest and tackiest bearing grease we've got. Perfect for headset and suspension bearings.
Prevention - CNC Storm Drains
Shockcraft can CNC Machine drainage channels (Storm Drains) into all of our bottom bracket cups. These allow any moisture which enters the bottom bracket along the crank axle to safely drain away regardless of the orientation of the bike. As a result bearing life is greatly improved. Take a look inside the cups and centre-sleeve, if you see any rust coloured pools or "high-tide" marks on the bearings then you need storm drains.

Combining CNC Storm Drains with Stainless Steel bearings leads to a 12 month unconditional bearing warranty.
Faux Flo V2 Kit

The next generation of our Faux Flo seal kit for Fox air shocks is currently in testing and will be ready soon. This will be a full air sleeve kit containing all the rubber seals, backup rings & lubricant required, and will include our new wiper design.


Pricing to be confirmed.
Manitou McLeod
The new all-mountain shock from Manitou with the best damping you've ever ridden and is now available direct from Shockcraft.

165 x 38 mm,
190 x 50 mm,
200 x 56 mm &
216 x 63 mm
all in stock right now

New Headset Bearings
Our new double sealed Campy Compatible 4545 headset bearings will be here soon. These replace the
single sealed items
.