Truvativ/SRAM GXP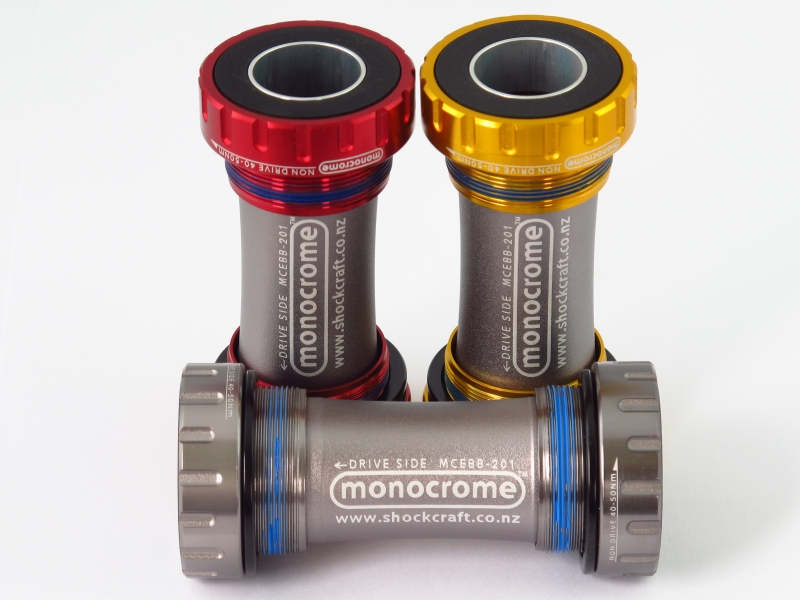 All current options for GXP bearing replacement require compromises in bearing choice and fit. Shockcraft instead offers its own GXP compatible bottom bracket which has no compromise on bearing fit, performance or material options.
Shockcraft's Monocrome Stepped Bottom Bracket is a direct replacement which fits perfectly and is 100% servicable. Bearing options both when new and for retrofit include Chromium Steel, Stainless Steel, Ceramic Hybrid and the Big Steel or Big Ceramic Hybrid options. They use exactly the same bearings and caps (or gaskets) as our 24 mm MCEBB-001 bottom brackets but step down to 22 mm on the non-drive side and have a width and offset tailored to fit the GXP cranksets.
For wet conditions we recommend CNC Storm Drains. If paired with Monocrome Stainless Steel bearings the bearings are warrantied for 12 months in any conditions.
Once you have a Monocrome Bottom Bracket it will last the life of your bike. Replacing wear parts (bearings and caps) is easy, cost effective and allows upgrades at any time. Bearings listed below are replacements for the Monocrome Stepped Bottom Brackets.