Bushings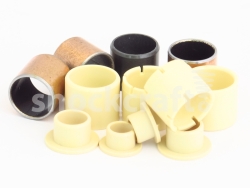 Shockcraft has a large range of bushings for rear shock eyelets, suspension pivots, dog bones etc
Monocrome DU Bushings: these are economical standard replacements for Fox, Manitou & RockShox etc. shock eyelet bushings.

IGUS Bushings: these hard wearing and self lubricating polymer bushings are manufactured in Germany. A wide range of sizes and styles are stocked in metric and imperial sizes. Ideal for shock eyelet upgrades or replacements for worn out bushing pivots. Styles include sleeves, thrust-washers, flanged (top-hat) and Pre-tensioned.
Shock Eyelet Pressing
Shockcraft offers a pressing service using our custom tools, which remove and install bushings and bearings without damage to your shock.
Replacement Shock Hardware
Shockcraft also manufactures custom shock hardware. Upgrade from two piece reducers to smoother, stronger and longer lasting Straight Axle Shock Hardware. Check out Shockcraft's Shock Hardware for further information.