30mm (BB30 & PF30)
Shockcraft has a number of bearing options available for BB30, PressFit 30, BBright & SI Bottom Brackets, including Monocrome stainless steel or chromium steel (ABEC3 or ABEC5), Enduro chromium steel (ABEC 5) and ceramic hybrid.
ABEC Grades: an ABEC code indicates the grade a bearing is made to. Bearings with higher ABEC grade numbers have tighter manufacturing tolerances for running at higher speeds and a higher cost. ABEC1 is the lowest grade, ABEC9 is the highest.
Monocrome Special 6 Months Guarantee: All MonocromeTM bearings carry a special guarantee with a 6 month no questions asked replacement.
Monocrome BB30 Internal Press-fit Bottom Bracket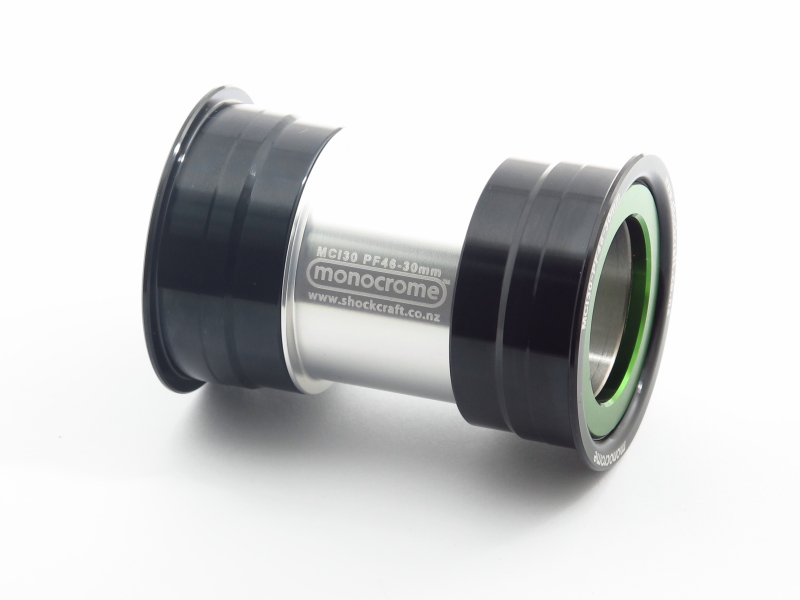 Shockcraft also has its own aluminium hard shell BB30/PF30 unit for road and mountain frames with 46 mm ID BB30/PF30 bottom brackets. Aluminium cups are much stiffer than plastic and prevent the bearings binding due to a tight frame fit, greatly improving bearing life. They can also be machined down to fit frames which are out of tolerance.