Suspension Bearings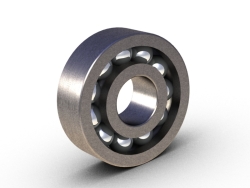 Full Complement (FC) Bearings perform better and last longer under the short rotation & constant impact of suspension pivots.
Shockcraft stocks an extensive range of Full Complement bearings, available both individually and in kits, for all major bike brands. We also build bearing kits for unique, obscure or rare bike models.
Where a normal caged bearing contains bearings with space between them and a cage to hold them apart, a Full Complement bearing is packed completely full of balls. This gives greater contact area and makes these bearings last longer in suspension pivots.